Team Building and Organizational Development for Executives, Supervisors and Individual Contributors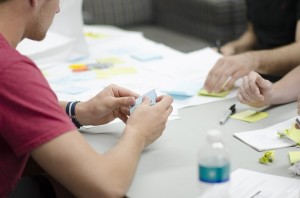 Contact Today
True Leadership ensures everyone succeeds.
Executives, supervisors and individual contributors all need the ability to show up and relate to others in a way that serves everyone's success – that is the mark of true leadership.
Contact Today
Leverage the Energy & Talents of Your Business Teams
Your business teams are the force behind your company's success.
theWealthSource® Business Team Coaching utilizes a mutual coaching process to leverage the energy and talents of a group often producing greater individual and group performances than individual programs. Facilitated by our coaches, members motivate and teach each other within a framework of accountability and mutual success. The organization benefits from shared knowledge, and success becomes exponential.
The constructive accountability process of coaching – whether delivered by a coach to an individual client or group of clients, or by the clients to each other in a mutual-coaching Success-Group – insures achievement of learning and performance objectives back into the daily work-life of the participants.
theWealthSource® Provides Team Coaching for:
Executive Leadership Teams

Management Teams

Business Development Teams

Customer Service Teams

Production Teams

… and more.
Success-Groups :: A Built-In Leadership Development Opportunity
A Success-group creates value for the client in the form of the cost savings of having a number of employees coached simultaneously by one coach –and ultimately each other. Moreover, multiple levels of additional value are created with the mutual-coaching Success-Group. First, the group members are taught, throughout the experience, to coach each other and internally facilitate the process. Second, the coaching skills that the participants develop coaching each other are skills that they can turn around and use to develop and lead their reports. (i.e., a built-in leadership development opportunity). Third, and most valuably over the long-term, the process creates a new, self-sustaining, culture-shifting way of doing" business-as-usual" that can be utilized by the client for ongoing development and future strategy initiatives and objectives.
Recently from theWealthSource® Blog
Newsletter Subscription
Want More from theWealthSource®
Get all theWealthSource® Blog Content, Updates, News & More delivered right into your inbox.
Don't miss any of the tools, tips and insights that will help create the most of what you value most. Subscribe to theWealthSource® newsletter today.
Newsletter Subscription