Kim Sawyer : Executive Wealth Coach and Keynote Speaker, President – the WealthSource

® 
Kim's content is exactly what you'd expect from world-class business coach: It's deep, it's new and it has the power to help you move to the next level."
Book Kim to Speak
He presents complex concepts simply and with an action-focus. His extensive knowledge of leadership, organizational development and professional growth make him a sought-after speaker for audiences of executives, professionals and entrepreneurs.
Book Kim to Speak
Real success in life comes from creating the most of what we value most.

"With Kim, you come to hear a speaker… and you also get a coach."
When Kim is in front of your people, they are guaranteed a new way of thinking about something and a tool to put it into action immediately.
With over 20 years of experience in professional and business effectiveness, leadership and entrepreneurship, Kim Sawyer delivers powerful keynote presentations designed to help executives, managers and entrepreneurs tap into their true source of wealth.
Drawing on his success as an Executive Coach, he teaches individuals and teams to increase profit, win promotions, align individual and company values and strategy, and accelerate the ramp-up to peak performance.
Kim holds a BBA in Entrepreneurship from the University of Houston and an MS in Organizational Development and Change Management from the University of Texas. He has been published and interviewed in the Houston Chronicle and other news publications, appeared on CNN Business Radio and speaks frequently to professional and industry organizations across the country.
Kim Sawyer's Popular Keynotes Include:
Failure – and how you respond to it –
is the key to success. But turning breakdown
into breakthrough is no easy task. It demands
more than just having a positive attitude.
The Alchemy of Success™ is a simple yet powerful
process by which business people can
capitalize on failure to reach the
next level of their success.
Technology of Celebration™
Executives and entrepreneurs tend to swing
for the fence, and often only claim success when
the ball goes out of the park. But what creates
big wins is usually an accumulation of small
victories over time. The Technology of
Celebration™ reveals how to recognize and
appreciate small victories as part of the
process of achieving big ones.
Wealth is More Than Money
Every choice in life is an investment decision, and every investment is about value. Wealth is accumulated value – in all forms. You are always choosing to spend your resources (time, money, love, energy, thought, etc) on one thing rather than others. Every "yes" speaks a thousand "no's." Gain true understanding of value and wealth so you can spend your resources on the most valuable things in your life.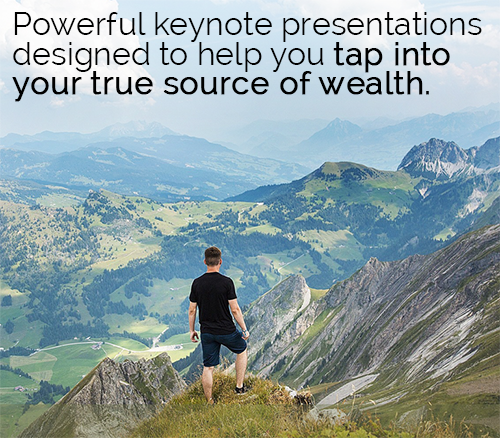 Newsletter Subscription
Want More from theWealthSource®
Get all theWealthSource® Blog Content, Updates, News & More delivered right into your inbox.
Don't miss any of the tools, tips and insights that will help create the most of what you value most. Subscribe to theWealthSource® newsletter today.
Newsletter Subscription